30 Days in the Spotlight





YourDiaperDayZ.com and the Your Diaper DayZ eBay store (better known as YDD)

where I sell custom and handmade gifts.

All YDD gifts are custom designed using top of the line products to suit the
new parents, baby, couple and/or gift receiver.


I've been in business for nearly 4 years now with my business starting by
chance. "A need was created and a business was born" is what I like to say.


It all started when I created a diaper cake for a baby shower for one of those
couples who married late and really had all the money and ?stuff?
they need for the new baby. I attended the baby shower and the guests LOVED
the diaper cake. By the end of the shower, I had three orders!

My motivation is most definitely my 4 children.

I want to show them that if you put your heart into something,

you really can succeed even when you feel that success is unreachable.

Being a work at home mom has so many wonderful and difficult things about it.
The long hours and need to juggle family and work schedules is hard
to figure out. Not to mention Mommy and Daddy time!

Although sweet compliments and my fantastic customers is what makes it worth
the sacrifice extra effort.

Needless to say, I am one busy woman...lol.

Stop by my Website or eBay Store to purchase your custom gift today!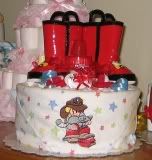 Baby Boy Fireman Diaper Cake



Diaper Cakes


Towel Cakes


Diaper Wreaths


Sewing


Thanks bunches for spending 30 DAYS in the SPOTLIGHT with us!

Keep up the Good Work!


Visit her website @:




PowerSellers are eBay's top sellers who sustain a consistent high volume of
monthly sales!



Once all the qualifications are met, the PowerSeller Icon is placed next to the
ebay sellers name. It's a symbol of Status within the eBay Community!



See if you qualify by going here:
Power Seller Qualifications




Here at PowerSellingMom.com, everyone that sells and takes care of a family is a
PowerSeller!



This page is dedicated to those sellers that are PowerSelling your way through
eBay!



If you would like to be a "Featured PowerSeller" or if you know of a
Powerseller that
you would like to recommend, Then please fill out the contact form with your
information.



Check back often to see who is the Next "Featured PowerSeller"